Publish at:
2020-12-29 11:46:34
IF-ISA, beginner's guide to earning £1m Interest Tax-free!
Earn £1m Interest Tax-free, using a simple UK Tax idea.*
ISA is an Individual Saving Account with TAX-FREE benefits on your earnings from this account.
How many types of ISA's are there?​
There are four types of Individual Savings Accounts (ISA):
Cash ISA;

Stocks and shares ISA;

Innovative Finance ISA (IF-ISA);

and

Lifetime ISA
You can put money into one of each kind of ISA each tax year.
You must be:
16 or over for a cash ISA
18 or over for stocks and shares or Innovative Finance ISA
18 or over but under 40 for a Lifetime ISA
You must also be either:
• resident in the UK
• a Crown servant (for example diplomatic or overseas civil service) or their spouse or civil partner if you do not live in the UK
You cannot hold an ISA with or on behalf of someone else.
An innovative finance ISA lets you use your tax-free ISA allowance while investing in peer to peer (P2P) lending.
Peer to peer lending is a form of investing where you directly lend money to borrowers and businesses. The borrowers then pay back the borrowed amount, with interest on top. The interest they pay is the return you get on your investment. You earn this interest tax-free.
Investors (IF-ISA holders) are linked with borrowers. A borrower could be a business, an individual or a property developer.

So, with an Innovative Finance ISA, your IF-ISA account contains P2P loans. With a cash ISA, it has cash, and with stocks and shares, it includes stocks and shares.
Dates and limits to Watch out for
1. IF-ISA Allowance 2021/2022 - £20,000 - Expires on 5th April 2022: 23:59 - You lose any unused allowance and the opportunity to earn tax-free interest on this amount- 🐢
2. IF-ISA Allowance 2022/2023 - £20,000 - Starts on 6th April 2022: 00:00 - 🐢
Kuflink's £1m Tax-Free Interest Model
We would like to share the following model to show you how to earn over £1m in Interest, Tax-free.
Our Accountants, Compliance and Tech teams were brainstorming in the boardroom and discovered a way to make over £1m net Tax-free interest using the Kuflink IF-ISA model*. Being tax-free boosts your returns and by compounding the tax-free earnings you can watch your money grow even more over time. Kuflink's IF-ISA fits this model.
Consider the following to earn £1M TAX-FREE from Kuflink's 5 Year IF-ISA at 7%*. (The concept works on smaller amounts as the percentage return is the same).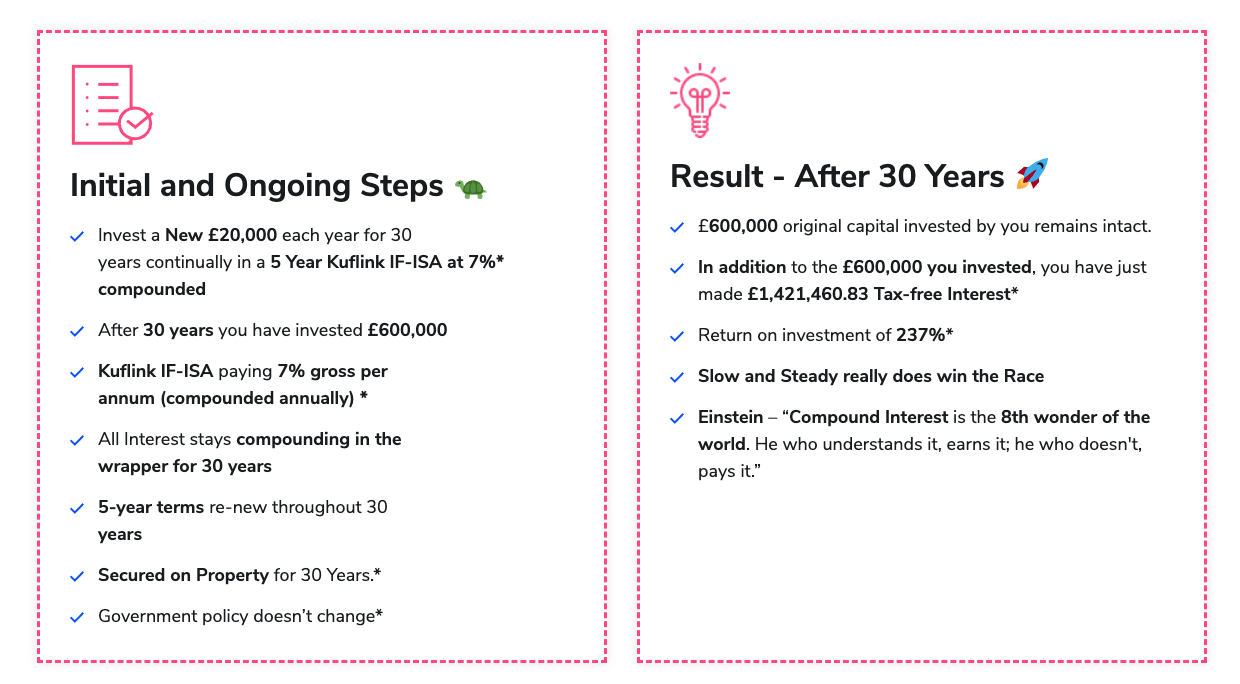 Kuflink Innovative Finance ISA (IF-ISA)
Pays up to 7.0% gross pa* Tax-free
Transfer a current Cash ISA, Stock & Shares ISA, Lifetime ISA or IF-ISA.*

Use your £20,000 annual tax-free allowance with Kuflink's IF-ISA*

Get started today with just £100

Diversify funds across multiple secured loans.

Entire Pool secured against UK Property* (1st & 2nd legal charges)

Blended LTV & LTGDV (63.71%)

(Figure correct 21st November 2021)

Over £10m in ISA Transfers into Kuflink from Major ISA Providers
Updated 21st November 2021
*Capital is at risk and Kuflink is not protected by the FSCS. Past returns should not be used as a guide to future performance. Securing investments against UK property does not guarantee that your investments will be repaid and returns may be delayed. Tax rules apply to IF ISAs and SIPPs and may be subject to change. Kuflink does not offer any financial or tax advice in relation to the investment opportunities that it promotes. Please read our risk statement for full details.
Kuflink Ltd is authorised and regulated by the Financial Conduct Authority (FCA) (Registration Number 724890). Kuflink Ltd has its registered office at 21 West Street, Gravesend, Kent, DA11 0BF, under company number 08460508. Kuflink Ltd has been approved by the Board of HM Revenue and Customs to act as an ISA manager in May 2017 to offer Innovative Finance ISAs – ISA manager No – Z1943.
Our Awards